Beer & Bytes
The Phnom Penh LUG currently meets every first Tuesday of the month at 6PM @ Phnom Penh Hackerspace,  No. 263, St. 163 (near Toul Tom Pong market, above 7 Mart). Come and meet us there!
Join the group
Online discussions happen either through our mailing list or our forum right here on this website. Don't hesitate to browse our past topics and introduce yourself!
Written by Fred
|
18 August 2015
After a few discussions we have decided to resume our monthly meetings and will start today presenting some group discussion about scheduling and places for those meetings, distro we love, Running Rasbian and Node.js on Raspberry Pi and Free Software in multirotors. We hope those topics will interest you to dig deeper and why not, show us what you found later this year.
So hopefully we'll see you all tonight at the Phnom Penh hackerspace starting at 18:00.
Written by Administrator
|
30 October 2014

As we are slowly getting back into activity we take the announcement of Software Freedom Day at NIPTICT to also release our new logo. Back to the original announcement though, this is probably a good event to all get back together and see what's cooking in the Free Software department in Phnom Penh.
The agenda is fully available here and we would particularly like to thank NIPTICT for their help and location to make this event possible! So see you all on Saturday!
Written by Administrator
|
06 October 2014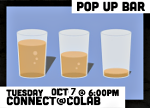 We are happy to announce/remind our readers that as usual the Phnom Penh Hackerspace is holding its usual Pop-Up Bar with a twist this month! On top of the usual crowd we are all happy to meet, a long list of startups and tech companies will be attending. A great opportunity to discuss with people using Free and Open Source technology daily and making a living out of it. Likewise, they're probably very knowledgeable about the tricks to do what they do.
Those include:
Event is happening tomorrow after 6pm near the Russian Market. See you all tomorrow!