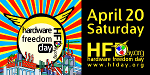 The newly Hong Kong registered charity (charity status pending approval)
Digital Freedom Foundation
(formerly known as SFI) is proud to announce the launch of
Hardware Freedom Day
on April 20, 2013
. Focusing a lot on all the hackerspaces around the world, but not only,
HFD
aims to spread the word about
Open Source Hardware
in our local communities and encourage more people to explore the limitless opportunities of sharing creativity, hacking skills and knowledge. Tightly connected with Free Software,
HFD
celebration comes as a great complement with the very famous
Software Freedom Day
celebration which has been running since 2004.
Hardware hacking is obviously not unknown to the
PPLUG
whose meetings are now managed by the
Phnom Penh Hackerspace
!
So if you're into
Open Source Hardware
don't wait, go
create your wiki page
and
register your event
right
now!