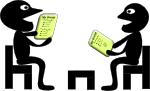 The Phnom Penh Hackerspace, Open Source Cambodia and the Phnom Penh LUG are pleased to inform you that we are organizing a joint meet up on Thursday 31th July at 6:30pm and would love to see you all. The purpose is to present what the current Free and Open Source Software and Hardware communities in Phnom Penh have to offer, how they interact with one another and what you can expect to see in the coming months.
Expect a short introduction from each group and then time to talk with everyone to adapt plans and activities so everyone can find something to match their expectations!
The meet up is happening at the Phnom Penh Hackerspace located No. 263, St. 163, 1st floor above 7 Mart convenience store just next to the Russian market. You can find a map and a photo of the entrance right here. See you all on Thursday!
Update: the Eventbrite registration is here. Please take the time to register so we can eventually switch venue if we are too many to join. Thanks!