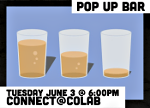 Just a reminder that we are having our monthly meeting at coLAB: tomorrow evening starting from 6pm. coLAB is also the current Phnom Penh hackerspace and provides a great opportunity to meet other people involved in software or hardware hacking (as in "modifying to fit your needs").
While there is no specific agenda it is really a get together and plan type of meetup. The place is just next to the Russian market (map at the bottom of coLAB website) and everybody can join, arrive late or leave late ;-).
Hope to see many of you again!