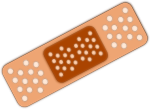 Thanks to
Rick's message
we were informed the site registration was broken. It was actually a problem with the new captcha, set up to prevent all the spam we were getting in the forum. Also with the latest Joomla! upgrade (2.5.1) the right side module combining forum, planet feed and the login box broke.
Omega Theme
provided a fix within less than 30 hours which is really amazing and makes us very happy to be using their products on this website.
So all in all, all the newly discovered issues have been fixed and you should all be able to use the website as planned.
Should you still have problems, please report them in the
forum specific section
or eventually the
mailing list
.
Thanks and enjoy!