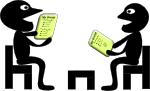 For this first meeting of the year we are lucky enough to have a foreign guest in town, Patrick Sinz, board member of AFUL (French Association of Free Software), board member of Digital Freedom Foundation, the organization behind SFD and now DFD (and others).
So on Wednesday Patrick will present the following talks:
FOSS as an engine for business and job creation.
Big data/open data/data visualization and the necessary FOSS tools to create interesting applications.
Talks are scheduled to last 20 minutes with a 10 minutes Q&A and then we'll be free to catch up all together, share our stories and plan for the next meeting.